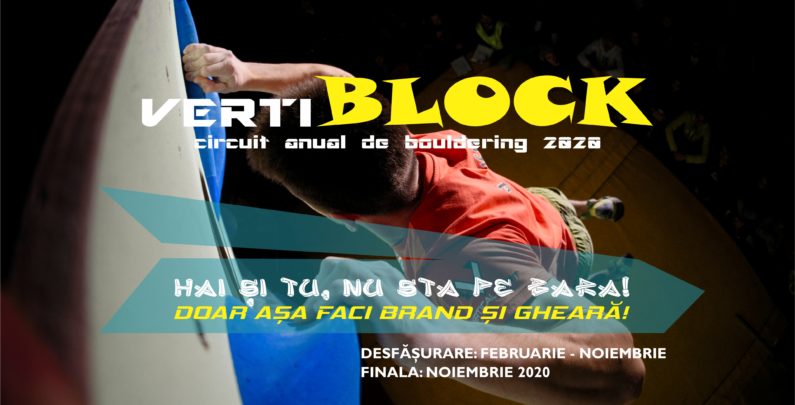 VertiBLOCK – annual bouldering circuit 2020
COME AND JOIN US! CLIMB HARD & PUSH YOUR LIMITS!
Dates: February – November 2020
Amenajator: Oliver Batâr
IF YOU LIKE TO CLIMB AT VERTICAL SPIRIT AND YOUR BOULDERING GRADE DOESN'T GO ABOVE 7a , but you'd like to make progress, enroll in the CIRCUIT and you'll get constant challenges throughout the year! Even more, you'll be able to keep track of your results and progress, thus helping you sustain your motivation!
THE CIRCUIT WILL INCLUDE
New routes will be set every two weeks, with grades between 4c and 7a.
Permanently on the bouldering wall there will be approximately 30 routes included in the circuit.
Each session will feature 30 boulder problems with grades from 5c to 7a..
The routes may be climbed by anybody, at any time during the gym's hours.
TRACKING THE ROUTES
Each participant will write down the problems they've finished on the scoreboard inside the gym.
The problems may be climbed at any time during the gym's hours.
On the basis to the scoreboard we will create an online-viewable Excel file where you will be able to check the rankings as they are updated in real time.
We're relying on your own FAIR PLAY regarding writing down the problems correctly!
RANKINGS
The rankings will be calculated according to points obtained by climbing the set problems, during the year. Depending on the grades, each problem will have a certain score as follows: gr4 – 100p; 5a – 250p; 5b – 400p; 5c – 700p; 6a – 1000p; 6a+ – 1450p; 6b – 1800p; 6b+ – 2500p; 6c – 4000p; 6c+ – 6000p; 7a – 10.000p . The scores for all the problems climbed throughout the year will be added.
THE FINAL OF THE CIRCUIT – November 2020. Will be organized for the first 12 ranked (6 men and 6 women).
CHECK THE CLIMBED PROBLEMS and the TALLIED SCORES NOW:
https://docs.google.com/spreadsheets/d/1IWYszvMg6YDOPRI11w43YQDmW4FiByZAGMS56FyGEpw/edit?usp=sharing