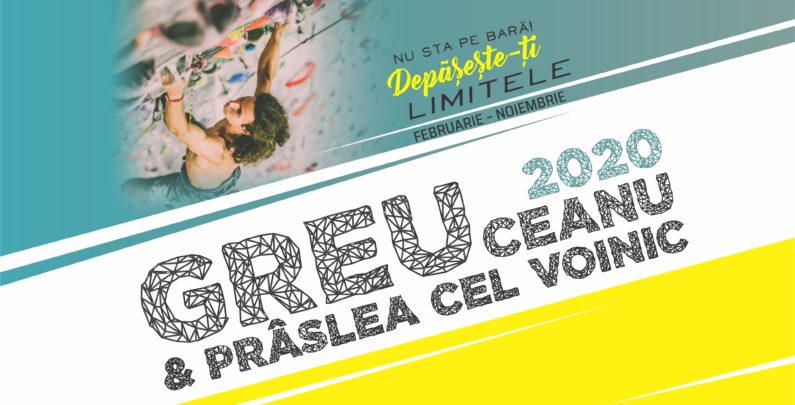 GREUceanu & Prâslea cel Voinic 2020
COME AND JOIN US !
We are starting a new edition of the annual GREUceanu & Prâslea cel Voinic lead climbing trophy. Come and climb the new routes and push your limits!
Times: February – November 2020
Categories: men & women (for both sections – Greuceanu and Praslea)
COMPETITION RULES
GREUceanu
There will be more routesetting sessions.
Within each session: 7 routes will be set, with difficulties between 7b and 8a.
Duration of a session: about 1½ – 2 months (during which the routes remain on the climbing wall).
Participants: middle-level & advanced climbers as well as performance athletes, regardless of age. Children and juniors athlets under 16 are allowed to participate if they are accompanied by a parent or coach.
Routesetter: Oliver Batâr
PRÂSLEA CEL VOINIC
Routes are set throughout the year and are specifically indicated on the walls.
Each route will remain set for about 2 months.
The grades go from 6c to 7a+/7b.
Participants: beginner & middle level climbers which can climb a maximum grade of 7a+ / 7b, regardless of age. Performance climbers (both children and adults) are not allowed to participate in this section.
BOTH SECTIONS
A route is sent: if the last quick draw is cliped and the top hold is controlled.
THE ONLY PERMITTED METHOD OF CLIMBING (including for working the routes) is on lead. Routes that have been worked on a toprope will not be considered even if they are then climbed on lead.
The grades are estimative. There may be differences between the appreciation of the routesetters and that of the participants, but this will not change the scores of the routes.
Each participant must complete a Participation Card, which will be kept at the Reception of the climbing gym throughout the trophy.
The name and the signature of the belayer as well as the date when the route was sent are required, in order to validate the route.
The routes can only be registrated on the day they have been sent. Subsequent registration is not allowed !!!
Climbing the GREUceanu and Praslea cel Voinic routes is allowed to all Vertical Spirit clients.
A minimum of 5 participant climbers per category are required in order to award the money prizes. And a minimum of 3 participant climbers per category are required in order to award the trophies.
RANKINGS
Depending on the route level, a number of points will be awarded for each route as follows:
GREUceanu: 7b_50pct, 7b + _100pct, 7c_300pct, 7c + _500pct, 8a_1000pct
Prâslea cel Voinic: 6c_100 pct, 6c + _300 pct, 7a_1000 pct, 7a + / 7b_3000 pct
At GREUceanu, for sending all routes within a session, a bonus of 2000 points is added.
For the routes sent on the first attempt it is added a bonus of 30% of the route score.
For the ranking, the points obtained throughout the year are cumulated.
At GREUceanu, to enter the ranking, it is not mandatory to participate in all 3 sessions of the Trophy.