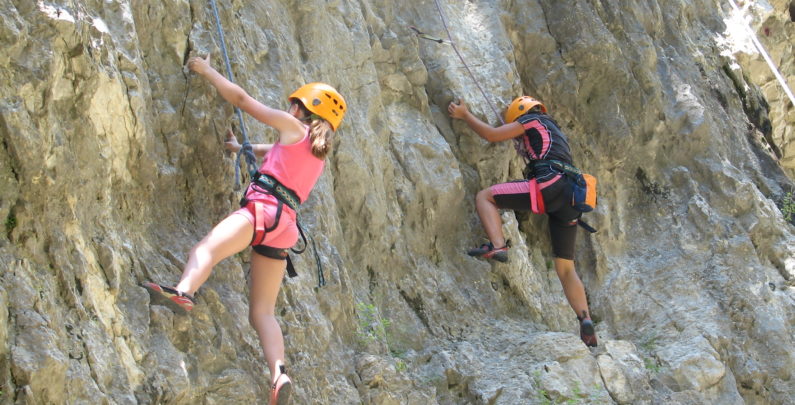 Rock climbing camp for children, April 2020
If you want to help your child to discover nature and develop their skills, let him climb! The climbing camp in Bulgaria will be an opportunity to explore safely, along with other small climbers and to develop a better physical condition. Climbing is a complex sport that, practiced regularly, develops most of the muscles in the body in a harmonious way. Moreover, climbing helps overcome mental barriers related to fear of heights, children learning what they can do at height without putting themselves in danger.
WHEN? 9th – 12th April, 2020
WHERE? Bulgaria – Basarbovo & Veliko Tarnovo
WHAT DO WE PROPOSE?
To support the right activities to stimulate the natural desire of the children to learn new things and to get to know themselves better with reaching and exceeding the limits, thus increasing their self-confidence.
To offer children an unforgettable camp with great joy, relaxation, exploration and learning.
Disconnect from the requesting school environment and reconnect to their body which they will use in many different ways in this camp and socialize with camp colleagues and instructors through activities.
WHY BULGARIA?
It is close to Bucharest: 75 km to Basarbovo and 170 km to Veliko Târnovo;
Access to climbing cliffs is very fast;
There are many climbing routes accessible for children;
Veliko Târnovo is an old and spectacular city and the surroundings are very nice for a nature trip;
It is an ideal place for a vacation in nature, with unlimited possibilities to work with children and train them in challenging games and activities, and at the same time it is a place where children will not be uncomfortable.
WHO CAN PARTICIPATE IN THIS CAMP?
Children between the ages of 6 and 12 can participate, regardless of their level in climbing.
WHERE WILL WE STAY?
At a guesthouse, in rooms with 2 and 3 beds and own bathroom. Breakfast will be served at the guesthouse, lunch on the cliff, in the form of a picnic, and dinner at a restaurant near the guesthouse.
WHAT WILL CHILDREN DO IN THE CAMP?
Day 1 – Climbing in the Basarbovo area. Arrival, accommodation, table and climbing. Children will first and foremost learn to adjust to rock climbing. They will learn more about how to manage their fear of heights, new and unknown, if any. They will learn to discover the hand and foot sockets and how to use them as best as they can to climb.
In the evening they will go to Veliko Târnovo, the next accommodation in the town of Arbanasi, a very beautiful and quiet village located in the immediate vicinity of the city of Veliko.
Day 2 – Climbing at Veliko Târnovo – an area already established for its cliffs arranged with many climbing routes, some even by Romanian climbers.
Day 3 – Active rest day – Excursion – Visit to the city of Veliko Turnovo and hiking near it (Hotnita and Krushuna Waterfalls, Hotnita Canyon, Devetashka Cave). Picnic.
Day 4 – Climbing in Basarbovo. Climbing. Practical lesson about knots. Then we will discuss what nature means, why we should respect and protect it, and how to behave when we go to the mountains or in wild places. Preparation for departure, meal and the way home
HOW MUCH DOES IT COST?
1,320 RON / child.
10% discount is granted for families with two children. This rate includes: transportation, accommodation, meals, specific equipment, climbing training.
REGISTRATION DEADLINE: March 25, 2020.
COORDINATOR INSTRUCTOR: Nicu Badea
IMPORTANT !!! Each participating child needs a notarized power of attorney from both parents attesting that they agree with the departure of the child accompanied by the trainers present at the internship. If the child is accompanied by one of the parents, he needs this power of attorney, from the other parent.
DETAILS AND SING UP: at the Vertical Spirit climbing gym at Baicului or by e-mail to Roxana Anghel.
CONTACT
Roxana Anghel
E-mail: roxana@verticalspirit.ro
Phone: 0785.211.960